// Books added to my tbr list that you might add to yours //
COMING SOON:
Silence by Michelle Sagara
RD: May 1, 2012, click cover for goodreads
"It began in the graveyard. Ever since her boyfriend Nathan died in a tragic accident Emma had been coming to the graveyard at night. During the day she went through the motions at her prep school, in class, with her friends, but that's all it was. But tonight was different. Tonight Emma and her dog were not alone in the cemetery. There were two others there—Eric, who had just started at her school, and an ancient woman who looked as though she were made of rags. And when they saw Emma there, the old woman reached out to her with a grip as chilling as death…."
doesn't the above cover remind you of this one?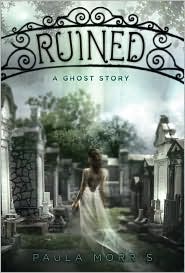 It's
RuinedI
by Paula Morris. Check out my thoughts on it
here
.
Sacred by Elana K. Arnold
RD: November 13, 2012
Growing up on Catalina Island, off the California coast, Scarlett Wenderoth has led a fairly isolated life. After her brother dies, her isolation deepens as she withdraws into herself, shutting out her friends and boyfriend. Her parents, shattered by their own sorrow, fail to notice Scarlett's pain and sudden alarming thinness. Scarlett finds pleasure only on her horse, escaping to the heart of the island on long, solitary rides. One day, as she races around a bend, Scarlett is startled by a boy who raises his hand in warning and says one word: "Stop."
The boy—intense, beautiful—is Will Cohen, a newcomer to the island. For reasons he can't or won't explain, he's drawn to Scarlett and feels compelled to keep her safe. To keep her from wasting away. His meddling irritates Scarlett, though she can't deny her attraction to him. As their relationship blossoms into love, Scarlett's body slowly awakens at Will's touch. But just when her grief begins to ebb, she makes a startling discovery about Will, a discovery he's been grappling with himself. A discovery that threatens to force them apart. And if it does, Scarlett fears she will unravel all over again.
oooh what's the discovery??!
OLD:
RD: Sept 2011
Like the other children who have journeyed to the village of Xibalba, Martin Maple faces an awful truth. He was forgotten. When everyone else in the world disappeared one afternoon, these children were the only ones left behind. There's Darla, who drives a monster truck; Felix, who used string and wood to rebuild the internet; Lane, who crafts elaborate contraptions for live entertainment; and nearly forty others, each equally brilliant and peculiar.

Inspired by the prophecies of a mysterious boy who talks to animals, Martin believes he can reunite them all with their loved ones. But believing and knowing are two different things, as he soon discovers with the push of a button, the flip of a switch, the turn of a dial...

A whimsical apocalyptic fable that carries readers to a future world without adults, a journey filled with dark humor that every reader will want to take.
Grave Mercy (His Fair Assassin #1) by Robin LaFevers
RD: April 3, 2012
Why be the sheep, when you can be the wolf?
Seventeen-year-old Ismae escapes from the brutality of an arranged marriage into the sanctuary of the convent of St. Mortain, where the sisters still serve the gods of old. Here she learns that the god of Death Himself has blessed her with dangerous gifts—and a violent destiny. If she chooses to stay at the convent, she will be trained as an assassin and serve as a handmaiden to Death. To claim her new life, she must destroy the lives of others.
Ismae's most important assignment takes her straight into the high court of Brittany—where she finds herself woefully under prepared—not only for the deadly games of intrigue and treason, but for the impossible choices she must make. For how can she deliver Death's vengeance upon a target who, against her will, has stolen her heart?
I have to read this asap! Shelf Awareness brought this one to my attention.
~~T.V and Book Addict~~