Rating:
4/5
Age R:
Rated-R
Release Date:
2006
Based on:
A Guide to Recognizing Your Saints by Dito Montiel
(click cover for BN description)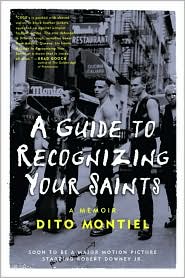 Director:
Dito Montiel
Synopsis:
A film adaptation of Dito Montiel's memoir of the same name,
A Guide to Recognizing Your Saints
is a compelling, thoughtful movie based on Montiel's childhood growing up in 1980s Queens. A writer and director who understands his limitations, Montiel wisely left the acting to the pros. Shia LaBeouf (
Holes
) plays him during his adolescence, while Robert Downey Jr. (
Good Night, and Good Luck
,
Wonder Boys
) portrays the grown-up Dito. Never mind that there is absolutely no physical resemblance between the two actors; LaBeouf and Downey are so convincing in their roles it doesn't matter. Switching effortlessly from present day (where Dito is a successful author) to the past (where he is a tough little kid trying to figure out if there is life beyond New York),
A Guide to Recognizing Your Saints
tackles Dito's complicated relationship with his parents (Chazz Palminteri and Dianne Wiest), as well as the friends he left behind. Eric Roberts is magnificent in a small role as one of Dito's tough, childhood buddies. His powerful performance makes viewers remember there was a time when Roberts was better known for his acting skills than for being Julia's big brother. Montiel--a first-time filmmaker--won the Director's Award at the 2006 Sundance Film Festival for his autobiographical movie. Raw, gritty, and honest,
Saints
) makes a strong impact and leaves the viewer curious as to how the rest of Montiel's life will work out.
--bn.com
Thoughts:
Did you read that up there? This film is based on the director's memoir which is based on his life. It's oh so very fascinating! Beware! It's really sad.
This was this dude's directorial debut and wow I gotta say it was really good! I loved it! He recently directed
Fighting
, which I haven't seen and am not very interested in. The story just doesn't compel me to watch it even though it also stars the adorable Channing Tatum. :D
Anyway, back to the movie. It was really good and dang so sad. The story itself could have been much better but it was still so powerful. Along with the really cool cinematography it makes quite the movie. It stays with you.
The main character, Dito, has few friends and lives in a horribly crappy and violent neighborhood. Pretty much everyone there is messed up. In my favorite part of the movie a few of the characters stare right at the camera and tell the audience what they think of themselves/feel (ex: I'm a super smart gal). I loved that! I wished they did that with all the characters though. Well, like I said, everyone is messed up and has problems. It's so sad but realistic. I'm sure many will be able to relate to at least one character at some point or another. The main character and Antonio (Tatum) are like brothers and they go through quite a lot. Mostly violent things.
You really have nothing to lose by watching this movie but so dang much to gain because trust me, this is one awesome movie. Extremely emotional so be sure not to be in the highest spirits...or lowest for that matter. I don't want to say more because I don't want to give spoilers away. Just trust me on this. Besides, it's not even that long; 98 minutes.
It is now one of my favorites :D
Enjoy!
Trailer:
Nifty:
If you have Comcast you can watch this movie for free on there for a limited time (under Sundance). If you have Netflix it's currently available to watch online or rent of course.
You'll like this if you are interested in:
-Channing Tatum
-Shia LaBeouf
-Robert Downey Jr.
-Dito Montiel
-violence
-1980's Austria, New York
-family relationships