Posted by

cassettelisette
Time: 7:50 PM
Links to this post

Gifts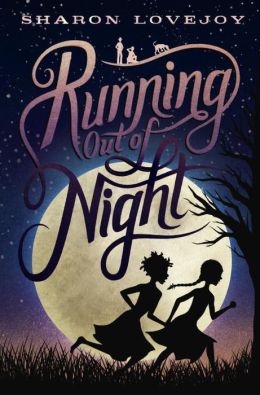 Running out of Night by Sharon Lovejoy. Rated: 9-12 yrs. Fiction, Slavery, Friendship. Release Date: 11/11/14
Fans of

Elijah of Buxton,

Trouble Don't Last,

and

Stealing Freedom

will be drawn to this tale of the incredible journey of an abused twelve-year-old white girl and an escaped slave girl who run away together and form a bond of friendship while seeking freedom.
Every day is a misery for a nameless, motherless Southern girl who is treated cruelly by her pa and brothers. Her life changes forever when a runaway slave named Zenobia turns to her for help and shelter. Longing for her own freedom, the girl decides to run away, and she and Zenobia set off on a harrowing journey. Along the way, Zenobia names the girl Lark, after the bird, for her ability to mimic its song.
Running by night, hiding by day, the girls are pursued by Lark's pa and brothers and by ruthless slave catchers. Brightwell, another runaway slave, joins them, and the three follow secret signs to a stop on the Underground Railroad. When the hideout is raided and Zenobia and Brightwell are captured, Lark sets out alone to rescue her friends.
This looks wonderful, especially connecting it in the classroom to Social Studies. Yay!
Waiting on Wednesday is a feature by Breaking the Spine.
~~T.V and Book Addict~~
Posted by

cassettelisette
Time: 11:27 PM
Links to this post

Waiting on Wednesday
Just bought these. Anyone else registered with them? I'm usually a size 7.5 W, but they don't have the option for W at all. I hope they work out. If so, then I'll order more.
So cute!!
~~T.V and Book Addict~~
Posted by

cassettelisette
Time: 10:49 PM
Links to this post

Fashion
Heya!
Fyi, I have been cleaning out this site so you will see some posts have disappeared o.O! Too much clutter!
Anywho.
Currently reading:
Lullabies by Lang Leav. Poetry. Rated R. Release date: September 2014
A sequel to the hugely popular, best-selling
Love & Misadventure
,
Lullabies
continues to explore the intricacies of love and loss.
Set to a musical theme, love's poetic journey in this new, original collection begins with a Duet and travels through Interlude and Finale with an Encore popular piece from the best-selling
Love & Misadventure
. Lang Leav's evocative poetry speaks to the soul of anyone who is on this journey.
Leav has an unnerving ability to see inside the hearts and minds of her readers. Her talent for translating complex emotions with astonishing simplicity has won her a cult following of devoted fans from all over the world.
Lang Leav is a poet and internationally exhibiting artist.
I am loving it! I read her debut book last year and loved it as well. Reading it slowly as I do not want it to be over.
Kid Presidents by David Stabler. Rated G. Release Date: October 28
The kids who grew up to be president were like a lot of other children. Some struggled with schoolwork and got into fights; others pranked their teachers and infuriated their parents. William Howard Taft was forced to take dance lessons. Gerald Ford struggled with dyslexia. Teddy Roosevelt had a bedroom "museum" full of dead animals. "Kid Presidents" features 20 captivating true stories from the childhoods of American presidents, complete with lively text and more than 200 cartoon illustrations. Laugh-out-loud funny and packed with cool facts, it's the perfect read for all young future leaders of the free world.
This book is absolutely great so far! I've been reading it to my 4th graders and they LOVE it like crazy. We are learning so much about what presidents were like as children. It really brings history to life for us. Highly recommended ESPECIALLY if you are a huge fan of teaching the importance of history and getting the little ones interested.
~~T.V and Book Addict~~
Posted by

cassettelisette
Time: 10:23 PM
Links to this post

Rating:
5/5; loved it.
Synopsis:
Set on an island off the coast of New England in the 1960s, as a young boy and girl fall in love they are moved to run away together. Various factions of the town mobilize to search for them and the town is turned upside down -- which might not be such a bad thing.
-IMDB
Review:
I'm twelve times happier that I saw this movie before it was in theaters. It was free, but you know what this cheapo girl did? I saw it twice more with some friends I knew would love it (had to get them hooked because that's what a friend does, right?).
I am going to have a difficult time putting to words the feelings I have for this movie. It is now my all-time favorite movie. A wonderfully and whimsically told movie about a boy and a girl who fall in love and run away into the wild together. One is a troubled boy scout without parents who is acquainted with the wild and the other is also a troubled girl, but with parents who are lost in life. They run away together because they love each other and they run away because they want to get away from the civilization that they find to be a let down.
The beginning of the story is sad and slow moving as you come to understand the protagonists. You feel sad as you find out about what they run away from - boring and unhappy lives surrounded by all these lost adults. Then you feel happy and hopeful as you realize what they are about to do. From then on, it just keeps getting better with all the shenanigans going on left and right.
If you like these type of stories, you will love this movie! The dialogue - oh the dialogue! It's as amazing as the story and the music. It will be tough for you to dislike this movie (obviously unless you dislike these type of tales). The places they go and the adventures they have while a large part of their town is out looking for them is breathtaking and fun!
Seriously, I loved everything about it. From the music, story, characterization, dialogue, all the way to the font! I found no fault in this film. :)
Trailer:
The movie is out now, available on youtube for $4, on Netflix. You have no excuse!
~~T.V and Book Addict~~
Posted by

Cute for Adventure
Time: 9:00 AM
Links to this post